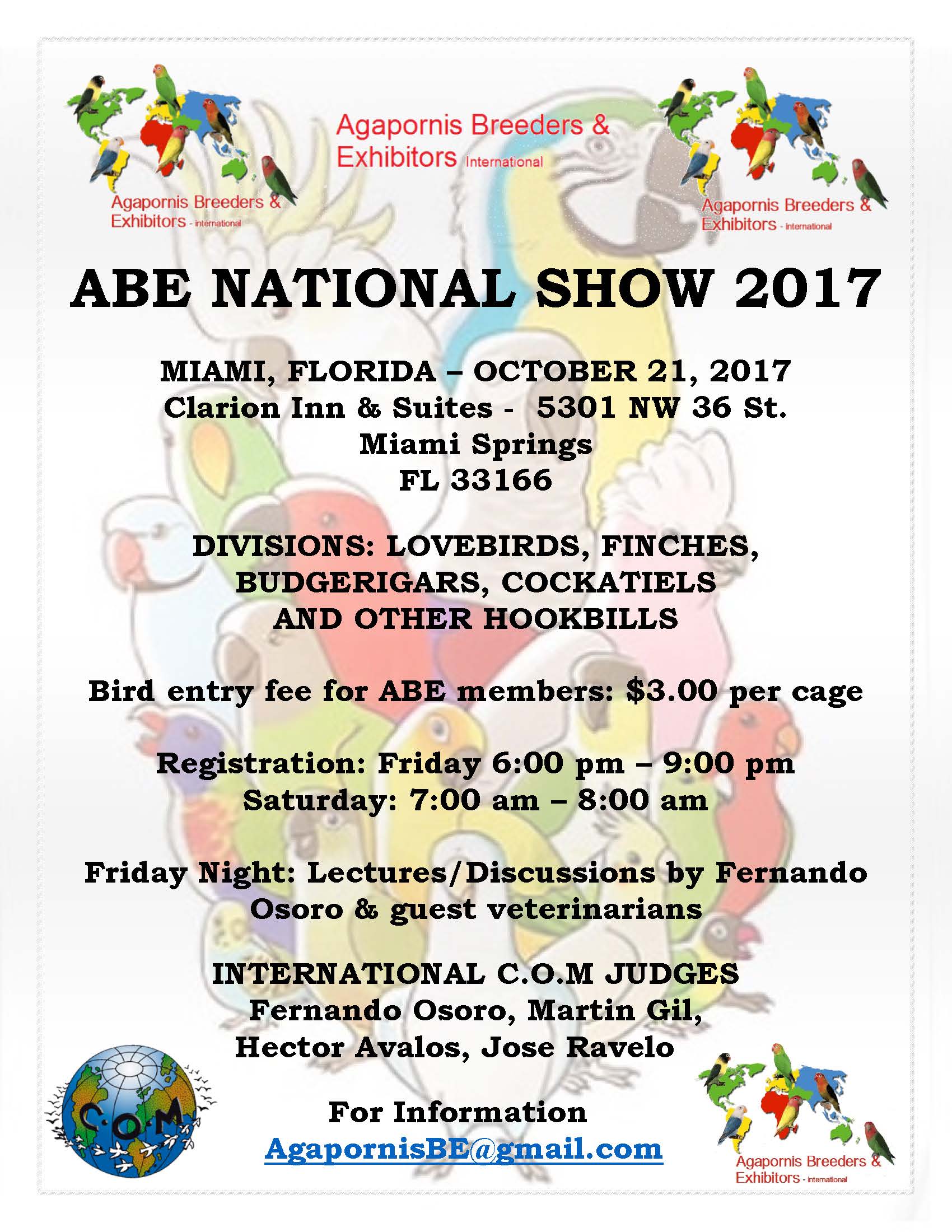 _____________________________________________________________________________
NATIONAL C.O.M. BIRD SHOW 2016 MIAMI, FLORIDA
🌴🌴🌴🌴🌴🌴🌴🌴🌴🌴🌴🌴
If you are in the South Florida area the ABE Representatives are having  a meeting to discuss procedures for the National Show such as forms, entries, judging, etc.
🏆🏅🏆🏅🏆🏅🏆🏅🏆🏅🏆🏅
ABE judge Jose Ravelo will be available to give all the details.
All types of birds from Finches to parrots will be at the National, all breeders are welcome to attend the meeting.
Date: October 9, 2016
Time: 3:00pm
Place: contact AgapornisBe@gmail.com
_____________________________________________________________________________-
JUDGES:
Agapornis – Mr. Fernando Osoro from Spain. Mr. Osoro is a C.O.M. judge whose specialty is Psittacines, Finches and European Fauna. He will be judging the Agapornis Division.
Psittacines – Mr. Jose Ravelo is currently visiting the United States with a special permit from Cuba to be our guest judge. Mr. Ravelo is a C.O.M. judge and his specialty is Psittacines and he will be judging the large parrots, Cockatiels and smaller Psittacines.
Finches – Mr. Martin Gil is also from Cuba on a special permit to come to our C.O.M. National Show and be our guest judge for the Finch Division. He is a C.O.M. judge and his specialty is Psittacines and Finches.
HOTEL INFORMATION FOR THE C.O.M. NATIONAL SHOW IN MIAMI:
COMFORT SUITES MIAMI/KENDALL
3901 SW 117 AVENUE
MENTION THE NATIONAL BIRD SHOW AND THE RATE IS $119.95 FOR TWO PEOPLE, $10 EXTRA FOR EACH ADDITIONAL PERSON.
FREE BREAKFAST, PARKING & WIFI
COUNTRY INN & SUITES MIAMI/KENDALL
111750 MILLS DRIVE
305 270 0359
NO SPECIAL RATES FOR THE SHOW
THIS HOTEL IS LOCATED IN A SHOPPING CENTER WITH STORES AND MANY RESTAURANTS AND BARS. IT'S CLOSE TO THE SHOW HALL.
NOTE: THERE WILL BE MANY EVENTS GOING ON THAT SAME WEEKEND INCLUDING NASCAR SO MAKE YOUR RESERVATIONS EARLY SO YOU ARE NOT LEFT WITHOUT A ROOM.
*** Although ABE is an international Lovebird Federation, it also has other technical commissions (Divisions) in which our judges have special qualifications under the C.O.M.
ABE IS AFFILIATED WITH THE CONFEDERATION ORNITOLOGIQUE MOMDIALE (C.O.M) THROUGH THE FEDERACION ORNITOLOGICA REGIONAL GALLEGA (FORG)
PLEASE FEEL FREE TO CONTACT US FOR INFORMATION REGARDING FUTURE NATIONAL SHOWS.
Agapornis Breeders & Exhibitors